Companion Two Person Mausoleum
Many families choose to build private above ground mausoleums. A companion mausoleum is designed and constructed to accommodate two people. The design options are endless. Our mausoleums are custom built with unsurpassed construction to last forever. They are perpetually warranted and constructed like no other.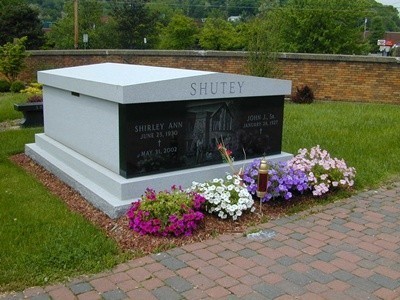 Testimonials
It looks beautiful!
Thank you Wayne for our Mom's stone.  It looks beautiful!  I will be sure to send anyone I can to you.  I am going to put your company and comments on Facebook.
Tobi Baysinger (Cap Anderson Cemetery)
Great Work!
Wayne, Thanks for the great job on mine and Perry's monument.  It is very much appreciated.
Katherine Miller (Walnut Grove Cemetery)
Another pleased customer..
I am very pleased with our stone. Thanks to Roxann and all involved.
Pat Stone (Vine Grove City Cemetery)
Thoughtful and Caring
Roxann and Wayne, Thank you for helping me pick out our headstone. I appreciate your thoughtfulness and caring ways. I appreciate you all taking the time to show me your products and giving me advice. Thank you all!
Lori White (Glasgow Memorial)
Beautiful, just as they said it'd be..
Derek, I went to the graveyard and inspected the headstone and it was absolutely beautiful. Just the way you said it would be. I am very, very pleased. Thank you so much for your kindness and help. I appreciate it. Thank you so much.
Bill Hodges (Horse Cave Cemetery)
I don't know what I would have done without her.
Just a note to let you know how pleased I have been with your service. I went to the cemetery and looked at the stone. I am also very pleased with it. Roxann was very efficient and comfortable to work with. She was a lot of help to me as we picked out the stone and all that's associated with that. I don't know what I would have done without her. Thanks so much for your services.
Veneta Milton (Peter Cemetery)
Excellent Cleaning
I have been to the Stiles Cemetery.  The monument of my father and mother that you cleaned looks great.  You did an excellent cleaning.  I so appreciate this more than words can express.
Mary Lois Judy
Patient and Helpful
Roxann, Thank you so much for all of your help and guidance in selecting a memorial stone for my father. I have visited the cemetery and the stone is absolutely beautiful! Your suggestions and patience have been much appreciated.
Martha Salsman
It's perfect!
Roxann, Thank you for your help in assisting us with the lovely headstone for Phyllis Likins. The stone is perfect for our memorial for our dear sister. Thanks again!
Family of Phyllis Likins
A piece of art..
Roxann, Mike and I were at the monument this week and we were very pleased. They were perfect, just a beautiful piece of art. Your suggestions to enhance them added the perfect finish. Thank you so much. If you ever need a reference when you have a client, you can call on me. The best to you.
Bob