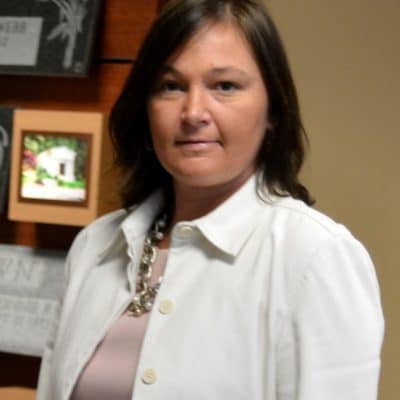 Stacey White
Paducah Office
Stacey White has been a sales counselor for J.W. Reynolds Memorials since 2006.
One thing she loves about her job here at J.W. Reynolds is being asked by families to design their loved one's memorial.  It is truly her honor to do this for each and every family she comes in contact with.  These families are trusting in her to make their loved one's memorial the most beautiful memorial she can possibly produce for them.  It is the last thing she can do for their loved one.  Stacey puts her heart and soul into each and every memorial she helps design.  She works very well with our drafting department to create unique and beautiful memorials.
Stacey has been married for 21 years.  She and her husband have 3 children.  Their oldest daughter just had a precious baby girl Emma, that they love and adore.  She stays very busy with work and the kids.  Their family stays on the go with sports and track events, but Stacey would not have it any other way.
Contact >